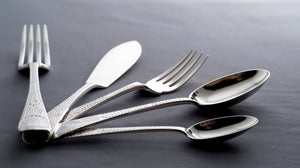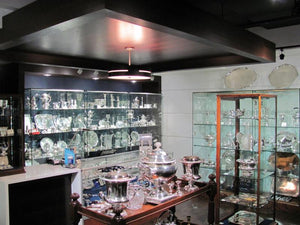 Purchasing antique silver from JH Tee Antiques can be arranged through our website shopping cart, by email, telephone or can be made at the store. To purchase an item please click on the "Add to Cart" icon below the price and then click on the "View Cart" icon on the following page to proceed to your shopping cart. To inquire about an item please click on the "Enquire" button at the bottom of the item page or contact us with the item title and SKU number at info@justinteeantiques.com or
tel: 604-261-0398.
Payment can be made by credit card through the shopping cart (or by phone at 604 261 0398). We also accept payment by cheque, money order, wire transfer, Interac e-transfer, Paypal or RBC online payment. Note: for purchases paid for by credit card or PayPal we will only ship to the verified billing address.
JH Tee Antiques ships worldwide by courier and insured airmail. Our shopping cart will generate a shipping quote or you may enquire by email.
We guarantee that all pieces on this site are in excellent condition and that our product descriptions are complete and accurate. With every item purchased you will receive a written receipt that includes a full description and price. This receipt should be kept for your records and for insurance purposes. Although we update our site regularly, we cannot guarantee that an item shown on this site is still in stock.
If you are unsatisfied with your purchase for any reason just return it in the condition in which it was received within 10 days and we will refund your money.
We are committed to protecting your privacy. JH Tee Antiques Ltd. is the sole owner of all information collected at justinteeantiques.com. We will not disclose, trade, or sell the information collected on this site.