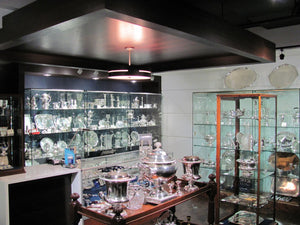 FREQUENTLY ASKED QUESTIONS ABOUT ANTIQUE SILVER
Yes. JH Tee Antiques is the largest antique silver buyer in Vancouver.  If you are looking for an antique silver buyer in Vancouver, come and see us.  We are always in the market for good estate and antique silver and sterling flatware. Bring your silver in for a quote as we do need to examine things first hand before we can make an offer.
All of the pieces offered on our site are in excellent condition. They have been gently used and well cared for. If there are any issues with condition, however minor, they will be noted in the description. Our estate Birks flatware is refurbished where necessary and is difficult to distinguish from new.
Depending on size, value and destination, we will use a courier service or insured airmail. We are experts at packing antique silverware and we will see to it that your purchase arrives in good order.
Yes we do. We would be happy to work out a payment plan for your purchase that is suitable for both parties, please inquire for details.
For long term storage, you should make sure your silver is clean and completely dry. Then pack it in clean tissue or cloth and put it inside a sealed plastic bag.
Sterling silver is a metal alloy that contains at least 92.5% silver (925 parts per thousand). The rest of the alloy is usually copper. It is the standard alloy for silverware used in the United Kingdom, North America and many other countries. The word 'sterling' has become synonymous with solid silver in the English-speaking world however, it is not the only standard. There are a number of other standards used, particularly in Europe where alloys typically range from 750 to 950 parts per thousand. Pure silver is very soft. By combining it with small amounts of other metals in an alloy it is possible to create a harder, more durable metal without losing any of the beauty or malleability.
Silver plate is an object made from a base metal such as copper or nickel that is coated with a thin layer of pure silver using the process of electrolytic deposition.
Virtually all sterling silver and other solid silver alloys are stamped with markings that indicate the fineness of the alloy. Pieces made in North America (after about 1860) should be stamped with the word "sterling", pieces made in Europe are often marked with a series of symbols, known as hallmarks, that indicate the fineness of their alloy and pieces from other parts of the world are often stamped with numbers such as 900 or 925 indicating the fineness. If there are no marks indicating solid silver it can be very difficult to tell. Weight is not a good indicator. 925-1000.com is an excellent site for learning more about hallmarks. Consult an expert if you are unsure.
The troy ounce is the traditional unit of measure used to gauge the weight of precious metals. It is equivalent to 31.1g and is approximately 10% heavier than a "regular" or avoirdupois ounce.