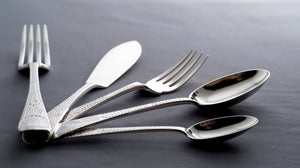 WHERE TO SELL YOUR SILVER IN VANCOUVER
JH Tee Antiques Ltd. is the largest antique silver buyer in Vancouver. To make an appointment to sell your silver please email info@justinteeantiques.com or call 604-261-0398. We are located at 1631 W 3rd Ave in Vancouver, in the Armoury District.
JH Tee Antiques Ltd. has 30 years of experience buying and selling antique silver and estate sterling silver in Vancouver. We are experts at evaluating your sterling silver and pay competitive prices based on the market value for your pieces. If you want to find a good home for your silver and do not want to see it melted down, please contact us. We buy all kinds of silver including English hallmarked silver, Birks sterling, American sterling, Chinese and Japanese silver. We buy silver by Tiffany, Gorham, Whiting, Buccellati, Georg Jensen and others. JH Tee Antiques buys sterling silver but we do not buy silver plate, jewellery or coins.
To determine if your pieces are sterling silver (or solid silver) as opposed to silver plate you can look for stamps indicating the nature of the material. Pieces from North America are typically marked with "sterling" or occasionally "925". Pieces from Europe may be stamped "800", "830" or may be stamped with a series of hallmarks (symbols). For more information on hallmarks please visit 925-1000.com. Marks such as "EPNS", "EP Copper", "EPBM" or "Birks Regency Plate" are found on silver plated items.
Learn more
If you are looking to sell sterling silver flatware, silver tea sets, trays, bowls, candlesticks etc please make an appointment to bring it to our shop. We will be happy to look at photos to determine if your pieces may be of interest but we will need to see them in person in order to make an offer. Sell your silver in Vancouver today at JH Tee Antiques LTD.
About Us